Top 10 sweetest mothers day gifts online
Mother's Day is May 12th.  What better way to show your affection and appreciation for Mom than to send her a delicious gift from Goodies online store.  We offer a variety of gifts to suit every mother's tastes.  From a box of our delicious toffee to an elaborate Happy to Be Mom gift basket, Goodies makes shopping for Mother's Day Gifts online quick and easy.  Below is our list for our top ten gifts for Mother's Day.
---
10. The Sampler – Give mom a tasty selection of our famous barks, toffees and chocolate covered pretzels, attractively presented on a gold mesh tray and finished with colorful ribbons. This gift is a chocolate lovers delight for any occasion.
9. Black and White and Goodies All Over – You don't really need a special occasion to show mom that you care, but make her day sweeter with this stylish basket filled with delicious chocolate confections and gourmet treats.
8. Candylicious – A unique gift for any mom that has a sweet tooth.  Try our acrylic tray loaded with a delicious selection of chocolates and gummies.  A colorful way to celebrate your mother.
7. Chocolate Madness – Your mother will go mad over this divided willow basket filled with Goodies finest chocolates.  Chocolate covered mini grahams, kitchen sink bark, triple chocolate toffee bits and more are sure to overjoy even the most discriminating chocolate lover. 
6. English Toffee Boxes – The mothers in your life will love our delectable English toffee bark in milk chocolate, dark chocolate or white chocolate presented in a Goodies gift box.
5. Signature Assortment – A basket filled with chocolate covered pretzels, English Toffee, Oreo bark, chocolate cherries and more. Wrapped in cellophane and beautifully bowed, the Goodies Signature Assortment gift basket is perfect for mothers of any age.
4. All Smiles Basket – Mother's Day will be full of smiles with this wonderful basket. Any mother will enjoy this selection of chocolates and candies beautifully wrapped in a melamine smile keepsake.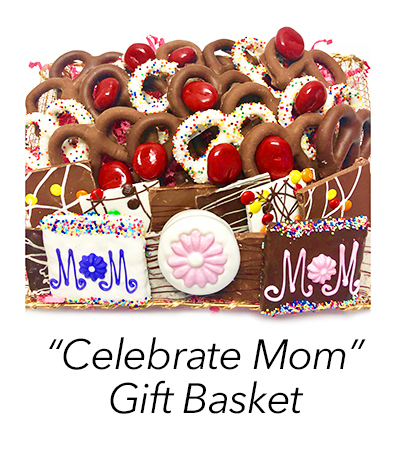 3. Write On.. Mom – A winning combination, chocolate to keep mom company as she jots her notes down.  Chunky hot pink pad with funky gem pen for any mother to enjoy.
2. Happy To Be Mom – Being a mother is pure happiness, especially when paired with chocolates.  Enjoy this hand made colorful basket filled with toffee, sour fruit, graham crackers, puppy chow and raspberry cookies.   Don't forget about the "Be Happy" chunky paper pad and pen to match.
1. Celebrate Mom – What a fantastic way to celebrate Mother's Day.  This custom assortment of chocolates is sure to make mothers everywhere feel special.
There is plenty of time to order all the moms in your life the perfect mother's day gifts online, but why wait? Order yours today.